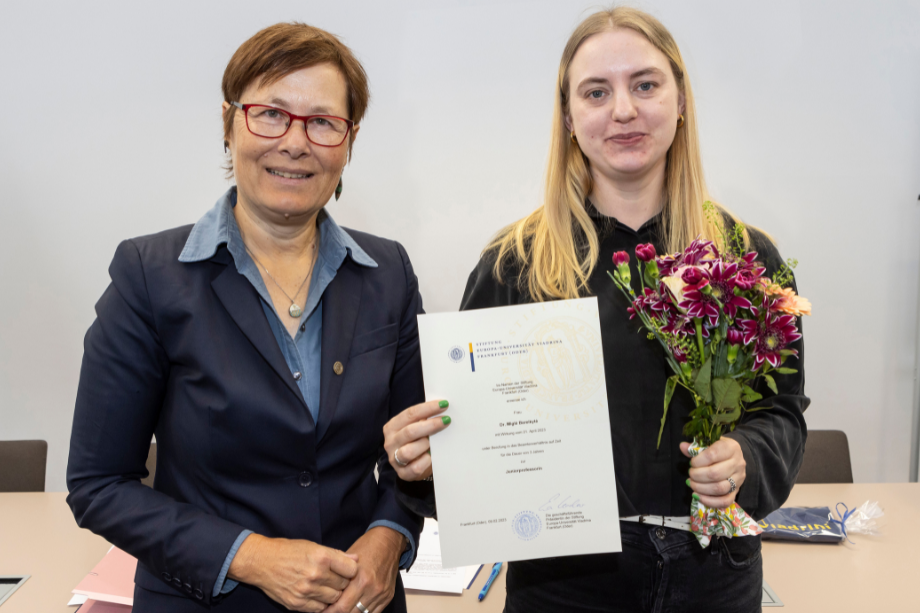 Migle Bareikyte appointed Assistant Professor for Digital Studies at ENS
We are happy to share the news that Migle Bareikyte has joined the ENS team as Professor for Digital Studies. The media scholar conducts research on situated phenomena of digitalization, including algorithmic-driven work, digital aspects of war and accountability, and a focus on Eastern Europe.
Migle Bareikyte studied "Communication and Information Studies" in Vilnius, Lithuania, and completed a master's degree in "Social and Political Critical Studies" in Kaunas. She also studied Media and Communication Studies at Freie Universität Berlin until 2015. The development of digitalization in Eastern Europe has become her research focus at least since she received her doctorate. At Leuphana University of Lüneburg, she had studied Internet infrastructures in post-socialist Lithuania as part of her doctoral thesis at the DFG Research Training Group "Cultures of Critique" and completed her work in 2020 with "magna cum laude".
Shortly before Russia expanded its war against Ukraine in February 2022, Migle Bareikyte was at the Center for Urban History in Lviv for a research stay. "The digital dimension of war has been one of my research topics ever since," she says. She is concerned with various war-related practices in social media, as well as digital ways of recording and exploring war experiences. Together with researchers in and from Ukraine, such as the Center for Urban History of East and Central Europe in Lviv, as well as other countries, she is researching and developing methods to examine war-related content on social media. "This collaborative work is very important to me and I am very happy to now become part of the European University Viadrina," she says shortly after the appointment by Viadrina President Professor Eva Kocher.

Students will be able to meet her in her first semester in a seminar on disinformation, among other things.
[Photo Credits: Heide Fest]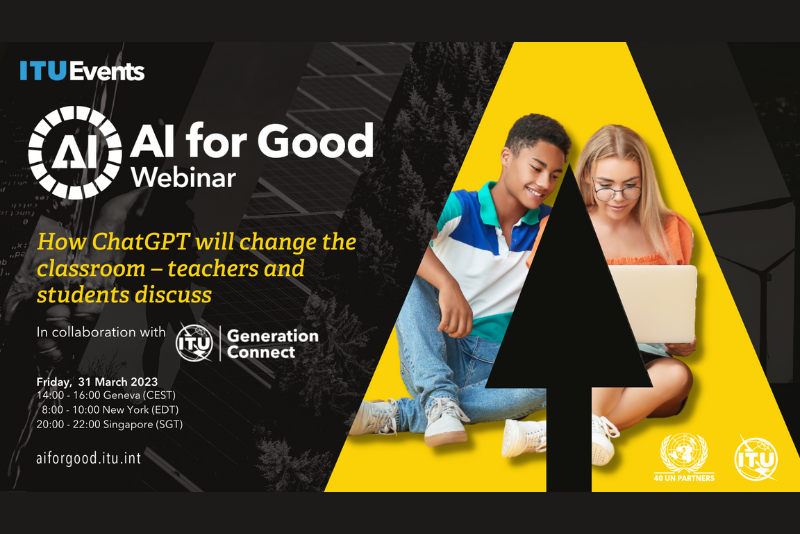 Webinar: How ChatGPT will change the Classroom
Are you wondering about the future of technologies like ChatGPT in the classroom? Then this upcoming AI for Good webinar is for you!
On 31 March 2023 from 2-4PM, you can join leading #AI experts, researchers and students for first-hand insights and vivid discussions on the pros and cons of this cutting-edge language model. Panelists include Professor Sandra Wachter from Oxford University, ENS Professor Philipp Hacker as well as two of our Master of Digital Entrepreneurship (MoDE) students. 
The live session includes a 30-minute networking event hosted on the AI for Good Neural Network. This is your opportunity to ask questions, interact with the panelists and participants and build connections with the AI for Good community.
Particpiation is free for everyone interested - just make sure to register beforehand.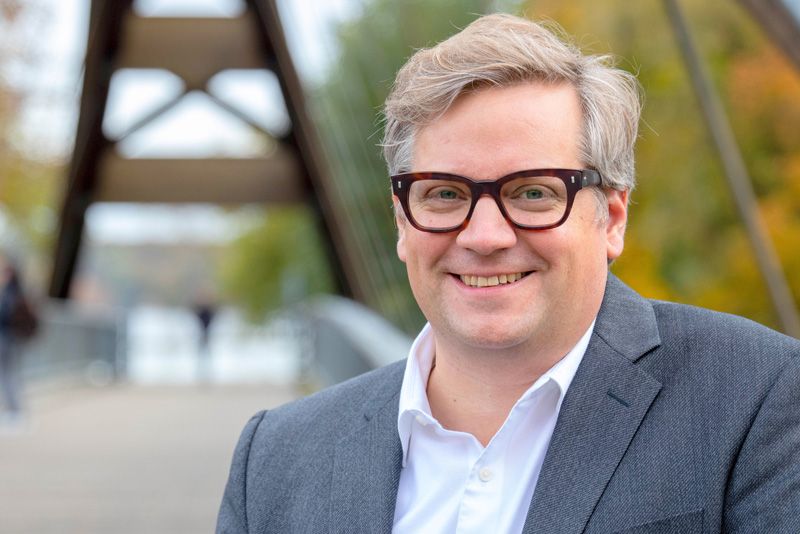 Professor Jan-Hendrik Passoth Appointed New ENS Director
Professor Jan-Hendrik Passoth is the new Director of the European New School of Digital Studies. Following the nomination by the European University Viadrina's Academic Senate, he was appointed by Viadrina President Professor Eva Kocher on 26 January 2023.
Professor Jan-Hendrik Passoth succeeds Professor Jürgen Neyer, who had headed the ENS since its foundation in November 2020 when it was jointly initiated by the European University Viadrina Frankfurt (Oder) and the Adam Mickiewicz University Poznan.
Viadrina President Professor Eva Kocher: "Jürgen Neyer has confidently led the European New School through its founding phase in the midst of the Corona pandemic and has played a decisive role in shaping it. I would like to thank him for his extraordinary commitment, which goes far back to the time before the founding. Since 2020, we have successfully enrolled three cohorts of students. About 100 young people from 37 countries are currently studying at ENS and we had our first alumni last year. I am convinced that we have found an excellent new leader in Jan-Hendrik Passoth."
Jan-Hendrik Passoth is Professor for Sociology of Technology and heading the "Science & Technology Studies" group at ENS. His research focuses on the role of digital infrastructures in democracy and politics, software development as a responsible social practice and possibilities of intervention in and criticism of digitalization projects through critical design.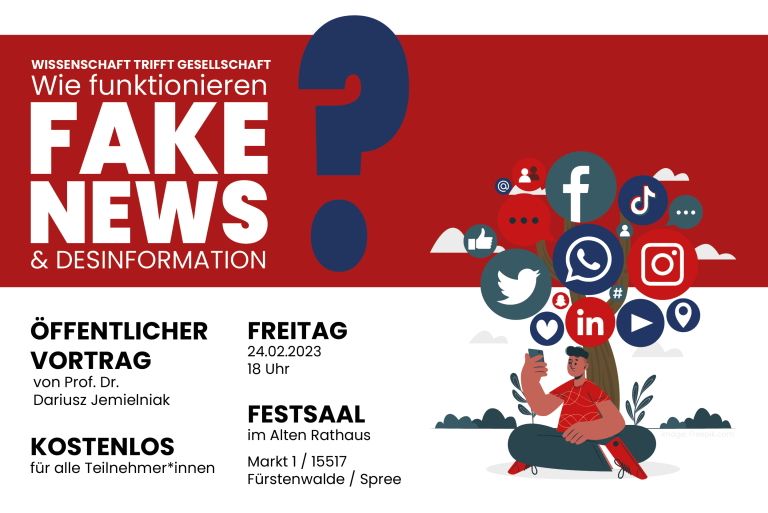 Fake News & Disinformation: Public Lecture with Prof. Dariusz Jemielniak
Disinformation has surrounded us not only since the pandemic. But how are myths created? Why do they work so well? And who is vulnerable to them? These are the questions addressed in a public lecture in Fürstenwalde (Festsaal, Markt 1, 15517 Fürstenwalde/Spree) on Friday, 24 February 2023, 6 PM. Professor Dariusz Jemielniak of Kozminski University in Warsaw and former ENS fellow, will give insights into his research and latest developments.
The event will take place in English with a simultaneous translation into German being provided. Participation is free – please register online. After the presentation, participants are invited to ask questions and discuss the topic further.
Dariusz Jemielniak has been involved in online knowledge sharing research over the past 15 years. More recently, he has been studying misinformation within three large grant projects on medical misinformation, climate change denialism, as well as misinformation bot detection. He holds a professorship of Management in Networked and Digital Societies at Kozminski University in Warsaw and is a faculty associate at the Berkman-Klein Center for Internet and Society at Harvard University.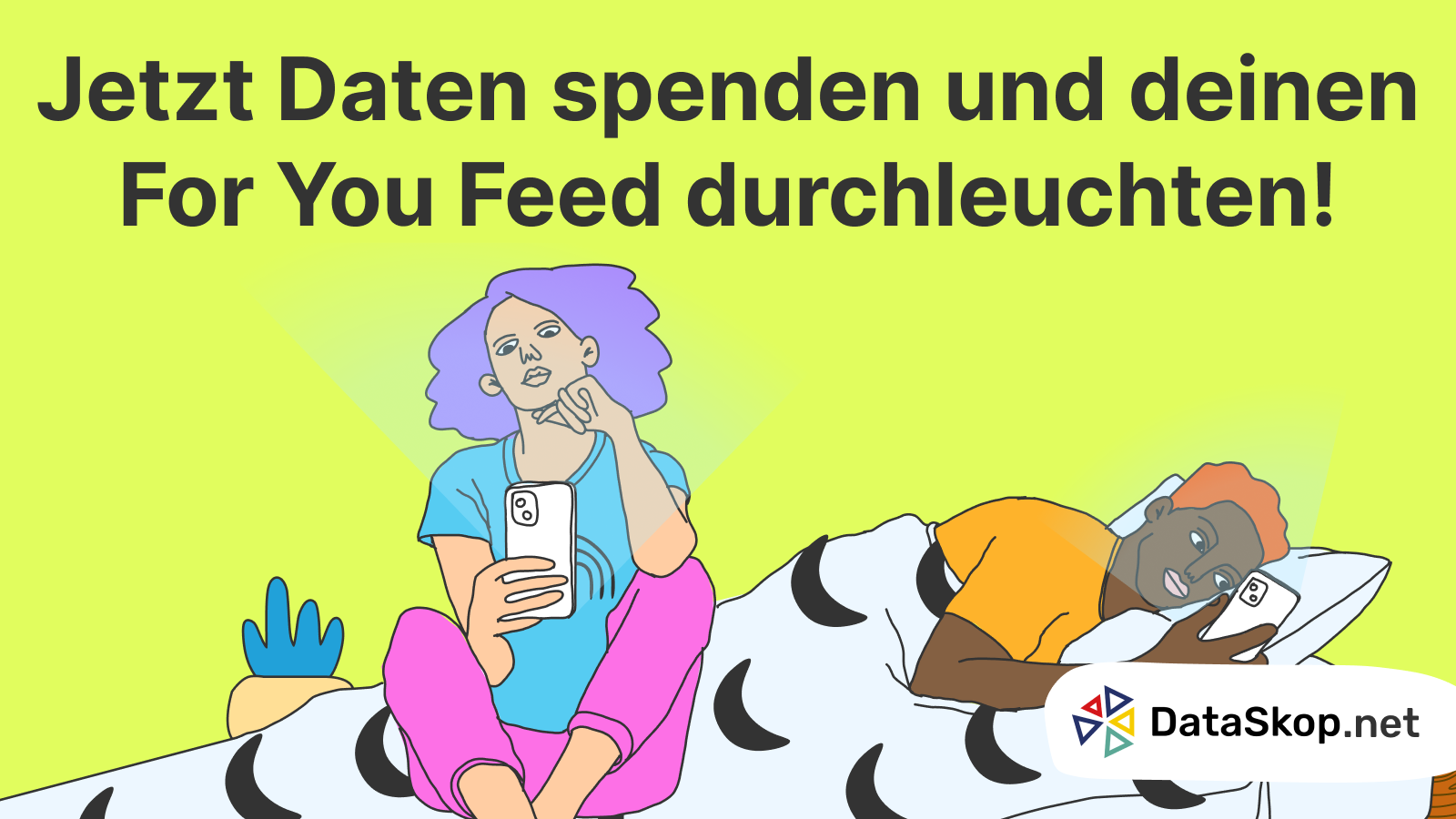 How does TikTok tick? - donate your data to support research!
TikTok has grown to become one of the most influential platforms in the world. In the second round of our data donation project DataSkop, we will be looking into what kind of content the "TikTok's for You" recommender is showing users. The project team will analyze real user data in order to investigate how and where trends and niches pop up on TikTok. Are there any indications that the platform features certain content more prominently than others?
From 26 January until the end of March, TikTok users are invited to donate their data to our project. By analyzing these data sets, we will gain deeper insight into how the platform's recommender system works.
In order to take part, users download an open-source software which requests their data from TikTok. According to the GDPR, platforms must hand over such private usage data once it is requested by users. As soon as it becomes available, DataSkop retrieves the data and will present participants with visualizations that illustrate their TikTok usage behavior as well as the option to donate their data.
DataSkop is a joint project of AlgorithmWatch, the ENS, the University of Applied Sciences Potsdam, the University of Paderborn and the association Mediale Pfade.
ChatGPT and its legal challenges: New article by Philipp Hacker
A legal text on ChatGPT – (partly) written by ChatGPT? Definitely nothing an ENS Professor wouldn't do!
In his latest article published on 'Verfassungsblog' in collaboration with Andreas Engel (Heidelberg University) and Theresa List (LMU Munich), Philipp Hacker provides one of the first comprehensive analyses on the legal challenges posed by the new chatbot and other large generative AI models. After introducing the technical foundations of ChatGPT, the article turns to two crucial legal challenges: its relationship to the #AI Act and content moderation.
Philipp Hacker: "We are happy to say that we used ChatGPT for writing the piece, more specifically the part on technical foundations. I believe that, from now on, we have to embrace AI writing tools instead of banning them (which will be futile, anyways). We need to develop proper policies for AI writing. In our post, we clearly mark all the sentences produced by ChatGPT, and disclose the prompts and the time they were collected."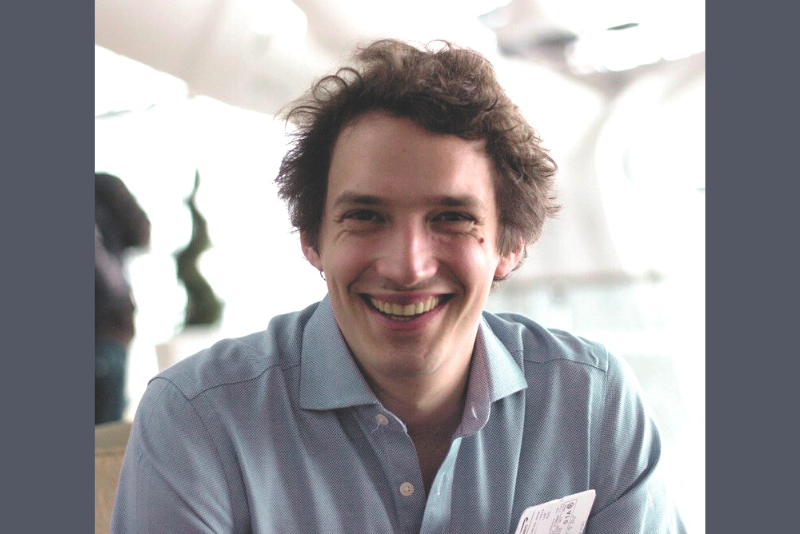 Online Talk: "Finetuning the Platform Work Directive"
The European Commission's draft Directive on working conditions in the platform (or 'gig') economy is a promising addition to the social acquis. It addresses key risks facing gig workers, including employment status misclassification, algorithmic management, and the enforcement of existing rules. The Directive's focus on harms which stem from algorithmic management, from automatic pay-docking and shift scheduling to automated termination, is particularly welcome.
Join us next Tuesday, 17 January 2023, 5:00-6:30 PM (CET), for an online talk on the latest developments concerning the Platform Work Directive (PWD) by Oxford's Jeremias Adams-Prassl. Jeremias is a leading expert and an ERC grant and Leverhulme Prize holder on the topic. In his talk, he will explore the PWD and discuss related, emerging issues at the intersection of AI, algorithmic management, the gig economy, and the GDPR. The talk is part of the weekly ENS Research Seminar.

The zoom link will be provided upon registration. Looking forward to seeing you!
ENS Film Club Vol #3
The 3rd edition of the ENS film club will take place on Monday, 21 November 2022 at the ENS Coworking Space. In each session, ENS students watch a movie together and discuss it afterwards. For this 3rd edition, students of all faculties are invited to join!
Blood-powered technology
 The film "Snowpiercer" was created by the same mind responsible for "Parasite", and behind its bombastic action set pieces, intense visual spectacle and outlandish characters, it is an unsubtle question of what actually powers 'the machine'. Who are the most important 'cogs' in the societal locomotive? Which part of technology is truly most important? And can the unsustainable exploitation of humans be equated to non-renewable resources, both of which might bring the end of humanity?
Where?
ENS Coworking Space, Collegium Polonicum, Slubice
When?
Monday, 21 November 2022, 6 PM
ENS WElcomes Third Generation of Master Students
On Monday, 10 October 2022, we invited our new cohort of students from all over the world to a hybrid info session in the ENS Coworking Space in Słubice. The students got the chance to meet both the team of the European University Viadrina and the Adam Mickiewicz University Poznań and learn more about the study program, useful tools and student life in Frankfurt (Oder) and Słubice. Since Visa procedures in some cases took a little longer, some of our new students joined the info session online.
Lecture period for this winter term starts on Monday, 17 October 2022. The schedule and more information on the study program can be found here.
The Viadrina Central Student Advisory Service is providing an overview of information sessions, welcoming events and leisure activities for students taking place during the next weeks - all information can be found online.
We wish you all a successful start into the new semester at the European New School of Digital Studies - we'll see you soon!
STS-HUB.de 2023 - Call for Abstracts
Science & Technology Studies (STS) has become a recognized academic field in the international research landscape. In Germany, however, STS is rather dispersed among existing academic disciplines and loosely connected academic networks and associations. To strengthen the interconnectedness of STS research in Germany, members of our STS working group are involved in the organization of the STS-hub.de, a conference series that brings together German organizations, labs, and research groups that are more or less closely related to STS.
The initial STS-hub.de conference themed "Circulations" will be held at the Human Technology Center in Aachen from 15-17 March 2023. Circulation is one of the key organising principles of present-day societies, but at the same time constitutes contested dynamics. As part of the organizing team, our ENS researchers Peter Kahlert and Suzette Kahlert have now published the call for abstracts. Researchers are invited to submit their empirical studies and critical reflections on the circulation of research objects, knowledge, instruments, experts, and skills in technoscientific configurations. Contributions could approach circulation with familiar STS sensitising concepts, such as infrastructure, translation, power, and care.
Submission deadline: 16 October 2022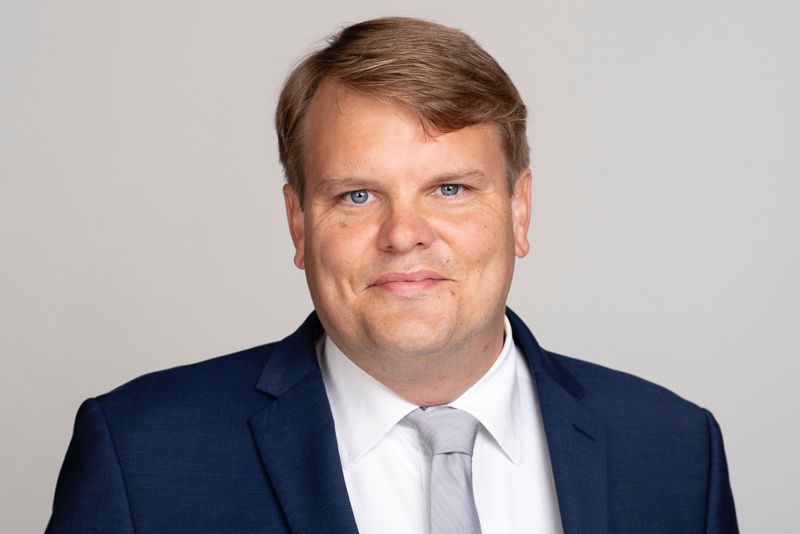 Two "Best Associate Editor" Awards for ENS Professor Lauri Wessel
At this year's European Conference on Information Systems (ECIS), one of the largest conferences in the Information Systems field, ENS Professor Lauri Wessel was nominated as "Best Conference Associated Editor" on two tracks: the general theme track run by Nick Berente, Stefan Seidel, and Cathy Urquhart as well as the 'Health Information Technology and IS for Healthcare' track run by Heiko Gewald, Douglas Vogel, and Nilmini Wickramasinghe.

Since 2020, Lauri Wessel holds the ENS Chair for Information Management and Digital Transformation. Regarding his latest success at the ECIS 2022 conference, he said: "Editing is an important function in academic publishing and I take this role very seriously. Christy Cheung was the first person to invite me as Associated Editor for Internet Research and then Jan Recker got me on board at Communications of the Association for Information Systems where I work with Fred Niederman until today. All these experiences have shaped how I edit papers, so this is a huge thank you to all of you! I truly appreciate your help over the years. And, of course, thank you to the about 20 reviewers who worked with and for me at ECIS 2022!"
The 30th conference edition "ECIS 2022 - New Horizons in Digitally United Societies" was held in Timisoara, Romania from 18-24 June 2022.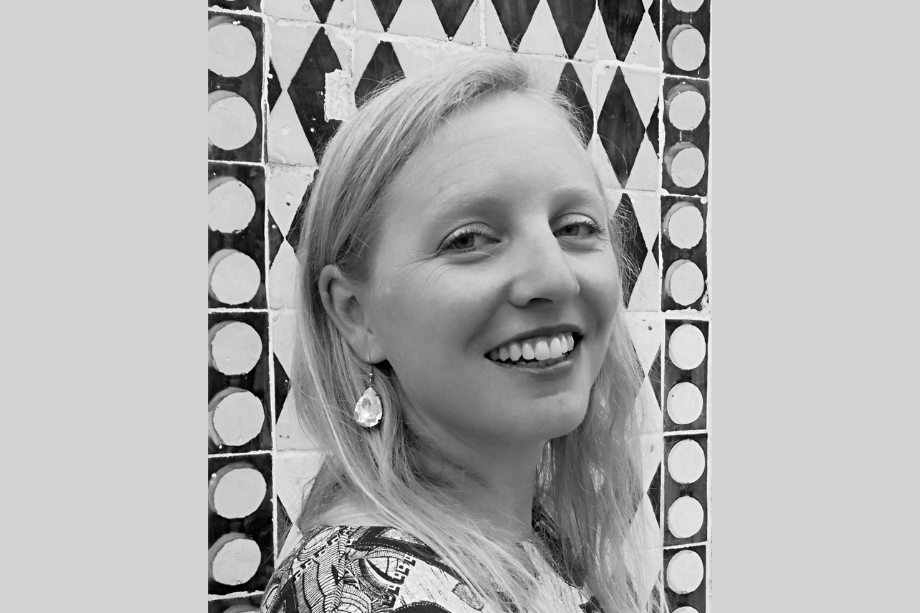 "The ENS is a great place for border research"
The ENS fellowship program "Datafication in European Societies" offers a temporary academic home for international researchers studying digitalization and data in Europe. Dr. Nina Amelung was the first fellow to visit ENS in March and April 2022. She is investigating the social and political consequences of collecting biometric data from migrants at the EU's external borders.
Nina Amelung used the months of the fellowship for her field research and conducted interviews with actors from the asylum administration, police authorities and migrant organizations. In her research project, she compares the situation in Germany and Portugal. After many months of research under pandemic conditions, the two-month fellowship at the German-Polish border came just in time. For the sociologist from the University of Lisbon, the ENS is located in a great area for border research. Not least, she appreciated the opportunities for collegial exchange with researchers who are also doing critical migration and border research.
Funded by the Dieter Schwarz Foundation, the ENS fellowship program "Datafication in European Societies" is designed for postdoctoral researchers active in one of the ENS core disciplines (economics, law, social and political sciences).